Welcome to measurement mashup, the podcast on data driven decisions in communications. We broadcast for communications managers, those interested in communications and for anyone who wants to learn more about evaluation, communication measurement and how to use it.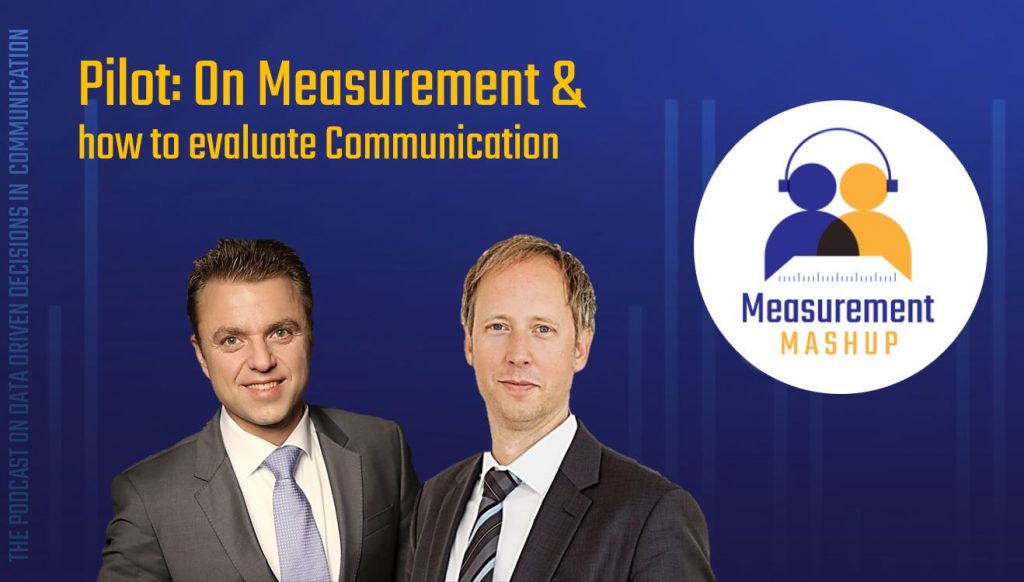 Shownotes | About the hosts | Submit a comment
What is this episode about? 
In this episode we explain why the topic of measuring communication is important and exciting. We briefly outline our experience with Communication Measurement or Communication Controlling. We will also briefly explain these terms. And we'll outline what we are going to do in the future episodes of this format.
Why is measurement important for communication managers? 
For this you have to look at the role of communication managers. What are the requirements for a communication manager in a large company? He is responsible for communicating with the outside world. To create press releases, articles, interviews with journalists for the website, the annual report but is also responsible for internal communications with employees. But the role has changed due to the digitalization of this field: new tools, new technologies, many more channels and dialogue offers. 
Communication offers from companies to different stakeholders must be managed sensibly, i.e. planned, organized and controlled in the interests of the company. It is the task of a manager to keep this process of impact running. The more differentiated the communication processes become, the more difficult it becomes to keep them together in the interests of the company and to manage them in a goal-oriented manner – in other words, in such a way that they really do benefit the company.  That is the big challenge.
When we look back at what the tasks and characteristics of a communications manager were a few years ago, two points were particularly important: A communications manager had to have many contacts with journalists and he had to be creative or give creative guidance to the agencies he worked with. But nowadays that is no longer enough. Today, there are concrete requirements for these communication managers who should be a support for top management, the board of directors or the executive board and act as sparring partners there. 
In the literature it has been discussed for several years that communication managers increasingly take on this consulting role and provide impulses to align companies according to market and stakeholder needs.
What does top management gain from communications controlling? 
The demands on top management have also changed. CEOs today know that they need data to make decisions. Companies operate in an increasingly agile world, have to fight against disruptive tendencies in their industry, develop agile strategies to survive and grow.  
This is what the communications manager is being asked to do. It is no longer enough to put a clipping book on the table by saying: "These are all the articles that have been published". Top management wants to know what the communication that was initiated has actually achieved – in relation to the business objectives and strategy. Especially since considerable sums of money are invested in budgets. These are definitely business-relevant investments, and everyone wants to know what the results have actually been. In this podcast we shed light on this: can we actually expect a return on investment from corporate communications, can we show it in figures? That may be possible to some extent, but it will certainly be exciting to talk about. 
The questions that the informed communications manager should answer when managing this highly complex process are:

What impact do our investments in corporate communications have on our business objectives?

 

Are we on the right track with our strategy?

 

Have we succeeded in supporting these business objectives as well as possible with corporate communications measures?
But don't companies nowadays do that already? 
There are many tools. A lot has happened in internal and external communication, there are providers on the market that offer good data analysis. 
But if you look at how data is used in corporate communications, you rarely see a holistic view of certain topics. It is often channel reports that you get: "Well, we've had so many clicks and so many comments on the channel now, or we have Earned and Paid Media on Facebook."  But to have an overview like "That was our business goal, these are the activities we have done and that is what has changed as a result of our communication in the stakeholder group, in the target group we wanted to reach" or "that is what we can show as a proven success" – this happens very rarely.  
Communicators drown very quickly in a flood of data. In the case of digital tools (Twitter Analytics, Facebook Insights, web reports from the companies' home pages, in the intranet, at Yammer etc.), statistical and evaluation tools have become standard. They deliver out-of-the-box very nice graphics, a lot of data, also as Excel exports. The question for communication managers is: What do I do with all the information contained in these data? How do I get them together?  
One key is to understand what you actually wanted to achieve with your communication. In conversation we realize that this supposedly simple question needs to be dealt with very hard. You have to deal with it for a while to be able to say what you actually want to achieve and whether you will achieve it. That's definitely what the podcast will be about: How can you formulate goals simply and measurably? 
We come across this more often in consultations when we ask about strategy or goals. We are presented with a list of activities. Then we are told: "Well, that's our goal for next year: We want to do this, we want to do that and we want to do still another thing." To realize that knowing what activities you want to do is not enough to make a good measurement is a learning process. What else does the communications department or the communications manager have to learn to set up a good measurement? Maybe the way briefings are prepared or what information you get from top management. To continue as it was in the past is obviously not enough. 
Challenges for communication managers 
If we don't just want to look at the individual channels, we have to ascend to a meta-level and convey the information in such a way that corporate communication can be controlled. How do we condense into one page what is written in all the thousands of dashboards, pie charts and bar charts? How do we condense this into a core statement and what do we do with it? We'll certainly be looking at dashboards in connection with this problem in one of the next episodes. 
Communication managers are faced with the challenge of bringing it all together in a suitable way. We say: "Communications managers have to learn measurement as well as all the doings. You might say: "Oh my, that on top of all!" But there's no way around, we have to do it. One of the aims of this podcast is to tell you, no worries, we'll get it right somehow! It sounds more complicated than it is. 
Opportunities for communication managers 
Exactly, and the measurement offers great opportunities. As a communications manager, when meet my top management with reports saying, "Here are so many clicks, so many likes, so many so many comments," I will never become someone who is involved in solution development. But if I can provide figures and insights that show: "We had this goal. That's where we are now. These are the problems that we can solve through communication, or maybe we have to tackle them operationally in some way", then suddenly you are a sparring partner for top management. This may also have a positive effect on the budget and the headcount. There are many, many opportunities in it. 
I can give you an example from internal communications: There is hardly a company that has not taken up the cause of cultural change: more agile work, digitalization. New employees should come into the company, should feel comfortable there. The question is: How is this challenge perceived? Will I manage to convey to my employees that cultural change is important and what it should look like? Do they even understand it? Only then will productivity at least remain constant and my high potentials will not leave the company and say: "Cultural change? I don't understand the company anymore!". 
This kind of cultural change already begins when new tools are introduced in digital development projects in the company. The communications manager must convey a value so that people don't develop a defensive attitude like: "New tools, Office 365! I don't want it at all! I want my old world back!" This is a genuinely communicative task to accompany such an introduction process.  
In order to do it well, you have to observe closely how well your communication activities are going. Have people understood which tool they can use for which elements? And that's where measurement or communication controlling comes in, to signal, "Look, they haven't understood that yet. We have to try something new." 
Measurement or controlling? 
I always flinch a bit when I hear "communication controlling", there's this word "control" in it. It's more about learning and being a sparring partner.  Being able to make better decisions with data, to learn what works and what doesn't and to be able to control before the campaign is over. Or to convey to the agencies what data is needed to measure intermediate steps, that's the importance of measurement for me. In the German-speaking industry, the term communication controlling is common. The media response service providers have also adopted it. Controlling in the true sense of the word ultimately means controlling with agreed objectives and that is essentially what we mean by communication controlling. 
In this podcast, one of our goals is to explain the topic of goal orientation and to classify the possibilities. It's less about terms, but simply about explaining how it can be done. Which information can be condensed in such a way that you can make the right decisions? To stay with the example of internal communication: are we still making an employee magazine or are we no longer making it? Why don't we make it anymore and what do we do instead? How much did it cost and how can we invest in other channels or digital channels in the future, if we want to save this, and perhaps, at the end of the day, have an even better result. 
These are the decisions that the communications manager faces, and he can answer them with a sensible measurement concept, whether it's called communications controlling or measurement concept doesn't matter. We have to find the right indicators for this and that is what we want to work on here, in this podcast.  
Getting started easily 
Our goal is to present really complex things or seemingly complex things in a simple way. 
If we can't do that, just write us a comment on Measurementmashup.de and say: "Hey, I haven't understood yet", or "Here's a question, it always sounds very complicated. Can't it be made easier?" We want to take away the fear of measurement. Measurement helps and supports and it doesn't have to be complicated! You can also make it simple.
We do it on a personal, dialogical level. We enter into discourse with our guests and even might get a bit worked up emotionally. Because we talk about the topics in the podcast in a dialogical way, we will be able to work on the topic comprehensibly, explain it as simply as possible, discuss it and put it into context – better than in texts.
Outlook 
Next we want to take a look at the practice first. We have invited a company representative who can talk about the specific challenges in communication measurement and tell us what is going well and what is not, and clarify problems in the implementation, in designing with  tools.  
See you soon!
yours 
Mark-Steffen Buchele and Steffen Rufenach 
Shownotes
Rate
buchele cc
Facharbeitskreis Kommunikations-Controlling
DPRG/ICV Wirkungsstufenmodel
About the Hosts
Mark-Steffen Buchele wrote his doctoral thesis more than fifteen years ago on how corporate communication can actually be measured. In recent years a lot has happened in the German-speaking communication scene and internationally in this area. Buchele has helped to develop a reference framework for communications controlling, which has now become a German-language standard.
He founded his company, buchele cc, to demonstrate what corporate communication actually does for companies, how it can be controlled and where it can be improved. For almost 10 years he has been consulting large and small companies, developing methods and concepts. For communication managers, he compiles information on how to answer their questions and prove the value contribution of their corporate communication.
Steffen Rufenach has been dealing with the topic of measuring communication in various ways since 2005, initially in Dr. Storck's reputation management team at Hering Schuppener Consulting. Then he went into business for himself, and today he is Managing Director of R.A.T.E . and is committed to the topic of measurement-based communications. As a partner of the FAZ Institute, R.A.T.E. develops measurement approaches for corporate communications and corporate responsibility. In both areas, the topic of measurement is still in its infancy for most companies. A growing need for pragmatic concepts is evident, and R.A.T.E. is a sparring partner in this area.
With R.A.T.E.in Frankfurt and buchele cc in Leipzig, this podcast is thus an East-West German cooperation.